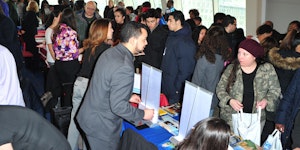 28th Annual Latino College Expo & Leadership Summit
Saturday, March 17th, 2018
On
Saturday, March 17th, 2018 the 28th Annual Latino College Expo & Leadership Summit will take place at the Kimmel Center of New York University.
Since 1990, the Latino College Expo has been in the forefront of "elevating the educational aspirations" of the Latino community and beyond". This event has become a stable in New York City and its set the bar for all college fairs that have followed.
It goes beyond sharing information, and to quote Dr. Pedro Noguera who spoke at a past Latino College Expo in 2014 "If every young person went to college, we will change a City".
See the link highlighting the event from last year on Channel 7 "Tiempo" show with Joe Torres. Tiempo: Part 1 -
http://abc7ny.com/1783551/
- (2018 segment will air in early March TBA)
LCE28 - STUDENT REGISTRATION LINK